Leor Pantilat - Northern Pickets Adventure Run
Monday, August 2, 2010
Northern Pickets Adventure Run
By Leor Pantilat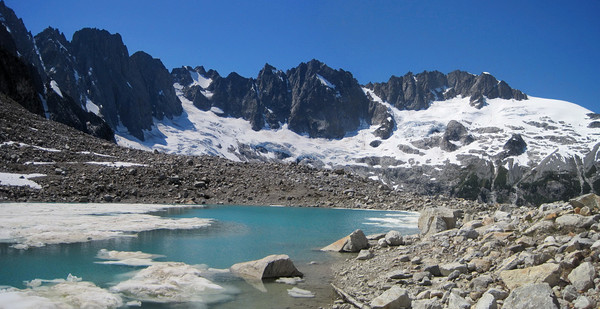 Hanging glaciers and towering rock walls come together to produce some of the most breathtaking mountain scenery anywhere... this is the Picket Range, the most remote and rugged region in the contiguous United States! Colin Abercrombie and I traversed through fabled Luna Cirque in the Northern Pickets region of North Cascades National Park. The point-to-point adventure run from Hannegan Pass Trailhead to Ross Dam features extensive off-trail travel on glaciers, boulder fields, scrambling, and thick brush. There is no easy way to access the North Pickets and no easy way out. There is virtually no evidence of human impact within Luna Cirque and only a few dozen climbers pass through here each season. The whole package makes for an arduous and committing outing for a multi-day trip, let alone a single day trek through this magnificient region.
Starting at 2:17 am, the trip took us exactly 23 hours with total distance 47+ miles and over 13,500 ft of elevation gain, most of it not coming easily! Colin and I had done this traverse in 4 days in 2005 climbing Whatcom, Challenger, and Luna along the way. In 2008, we did an out-and-back to the summit of Mount Fury via Access Creek. The information we had gathered on these past trips was essential in our attempt to do the entire route in a single day. Weather conditions were idyllic and the timing was great for a trip through Luna Cirque. While travel through the Pickets took longer than expected (it always does), we did a fantastic job selecting an efficient route and making consistent progress throughout the trip. Complete trip report with many photos here.
[vimeo=http://www.vimeo.com/13814928]
We handled the car shuttle logistics Thursday afternoon and got a few hours of rest in the Hannegan Pass Trailhead parking lot. The route began with a 17 mile run and hike to Whatcom Pass (4 hours, 40 minutes) followed by a traverse around the east side of Whatcom Peak. Once on the south side of Whatcom, we utilized a slanting, steep chute to access the Challenger Glacier and then traversed the glacier to Challenger Arm where we enjoyed spectacular views of Luna Cirque. Descending into Luna Cirque was cumbersome in spots, especially crossing deep gullies with traction-less hardpan. Eventually we made it to the bottom of the cirque and began the long climb up to Luna Pass. Utilizing as much snow as possible helped us to reach Luna Pass relatively quickly. Travel through the basin on the south side of Luna was reasonable but we were slowed by steep and hard snow in the gully leading down to Access Creek. This portion was already in the shade making it a challenging downclimb in aluminum crampons, especially my rather flimsy Kahtoola Aluminums (Colin's Grivel Air Tech Lights were better suited for this and they weigh about the same). We eventually made it down to the headwaters of Access Creek and were able to navigate the brush of Access in the daylight, reaching a series of logs upstream of the confluence with Big Beaver Creek just as the last bit of light was fading. As usual, we were too tired to run the entire length of the Big Beaver trail and were resigned to walking the balance of the miles after 39 mile camp. Typical Pickets exhaustion at the end, but great memories of one of my most awesome days in the Cascades! Complete trip with many photos here.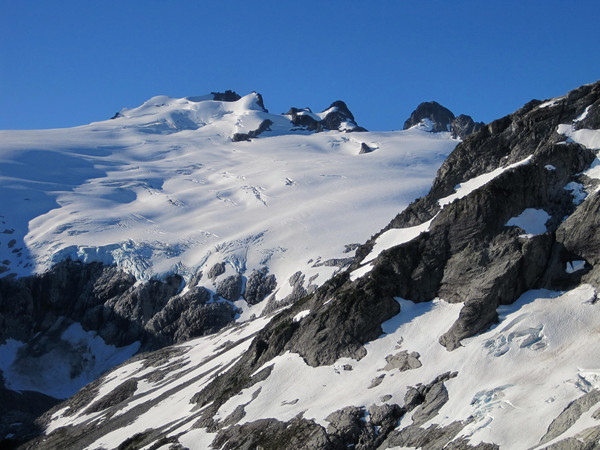 Google Earth Map with rough route overlay (click image to enlarge):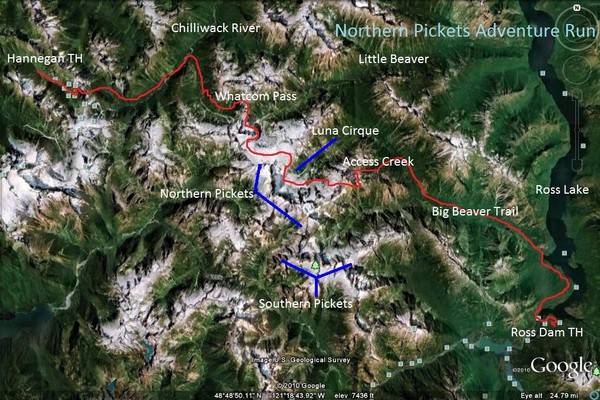 Gear included:
La Sportiva Fireblades
Ultimate Direction Wasp Pack and Fastdraw handholders
First Endurance EFS and Liquid Shot
Petzl Tikka XP headlamp and Snowracer Axe
Post Your Comments